Today, the success of sports clubs depends to a large extent on their ability to provide a seamless experience for their members and to manage their activities efficiently. Traditional booking and management systems often fail to deliver these benefits due to high costs and lack of customisation. Recognising this gap, we have developed an innovative booking system specifically tailored for sports clubs that fundamentally changes the way they organise their operations.
Our state-of-the-art system is not only more affordable, but also offers a comprehensive set of features that can be tailored to the unique needs of each sports club. One of the first installers of our system, www.efit.lt EMS Training Studio, has already started to benefit from this personalised and cost-effective solution.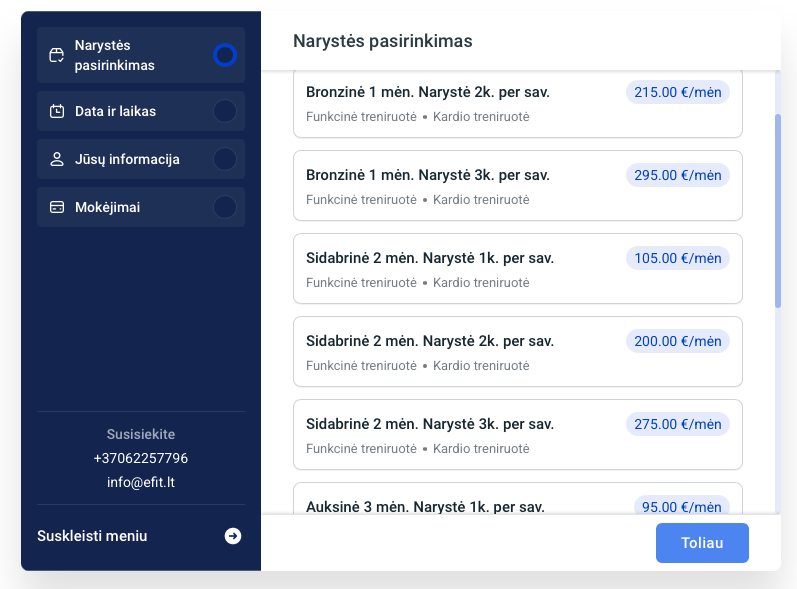 Evolution of reservation systems
Until now, clubs have had to spend around €600 per month on reservation systems. However, our solution can be purchased immediately and integrated into an existing website, so it pays for itself in a few short months. This significant cost reduction and improved functionality is a win-win situation for sports clubs looking to modernise their operations.
Innovative user experience
Our booking system offers a convenient platform where clients can easily register for training, purchase memberships and manage their training schedules. They can choose from a range of membership options, including monthly payments or a specific number of workouts. Trainers can also monitor their schedules, make changes to them, or cancel workouts before a deadline set by the administrator.
Managing sports clubs differently
On the administrative side, the system allows you to efficiently manage all your bookings, create gift vouchers and monitor availability. Changes can be made with just a few clicks and everything can be tracked on a modern platform. The system also sends reminders to ensure that all members and staff receive timely notifications about upcoming training sessions.
The main functions of our system:
Cost-effectiveness: Significantly reduces monthly costs compared to traditional systems.
Convenient use: An easy-to-use interface for clients and trainers to manage bookings and schedules.
Available at: Can be tailored to the specific needs of each sports club.
Efficient: Simplifies administrative tasks such as order management, invoicing, coupon creation and availability tracking.
Modern: Built on a modern platform that ensures smooth and efficient operation.
Automatic reminders: Timely reminders sent to members and staff.
We are proud to have our system installed www.efit.lt EMS training studios, and we hope to help more sports clubs optimise their operations.
Are you a sports club looking to revolutionise your booking and management system? If so, we invite you to take a look at our innovative solution. Let us help you increase efficiency, improve user experience and save money. Contact us at hello@versify.lt or fill in the contact formto find out more about our customisable booking system and how it can benefit your club. Our professional team is ready to help you on your digital transformation journey.
---